Our Promise
Our work is good. We promise. And behind that promise, we want you to know that we back our work with a satisfaction guarantee. We won't stop working until you like what we've done.
At Solid Foundation Construction, we've built our livelihoods on remodeling people's homes. From the simple to the lavish, we've experienced it all and we can help you every step of the way. No job is too small or too big for our knowledgeable crew!
Whether it's getting your home remodeled, adding a new room or fixing damage that's been done to your home, we're here to help you every step of the way. Solid Foundation is a locally owned Winston-Salem company, so we really mean it when we say we're here to help you.
Bios
Preston Harris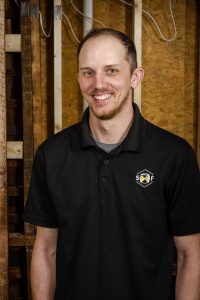 Preston's motto is "Where Principles are as Solid as the Work!" This serves as the focus for Solid Foundation Construction. Preston's background is filled with important lessons on creating a strong work ethic. He has many great memories of watching his father, who is also a carpenter, value good relationships throughout his work.
Preston grew up in Floyd County, which is situated off the parkway in southwest Virginia. As a teenager, he began working for his uncle's business, Harris Construction. Preston was privileged to work alongside his uncle and his father in the business. He learned early on that he had many gifts and talents for carpentry. He quickly took his work to another level. In high school, he competed in Skills USA competitions on local, state, and national levels, with a specialty in carpentry. After graduating high school Preston continued to work for Harris Construction. He realized carpentry was his passion and vocational calling. He knew if his professional journey was going to be as a carpenter he needed to broaden his scope of work. He ingrained himself in all aspects of the trade throughout the next several years. He and his wife moved to Winston-Salem, NC, in June 2008. Preston's wife, Amber, was a student at Wake Forest University School of Divinity where she earned her M.Div. While Amber was a student, Preston was launching his business. Preston says, "Amber is an incredible support for my business. She believes in me and helps me build a strong foundation."
Preston began his business in the Spring of 2009. He established Solid Foundation Construction LLC in the Summer of 2011. Preston enjoys thinking creatively and realistically with customers about how to improve and customize their homes. His craftsmanship goes beyond just carpentry. Preston also does tile work, painting, electrical work, flooring, precision trim work, and creative designing. He is very grateful to his customers for their support and he looks forward to hopefully working with you very soon!
Oscola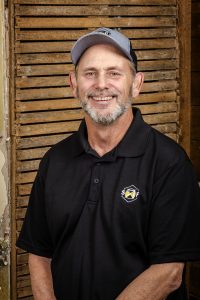 Oscola lives in Floyd, VA. He is a carpenter by trade and has spent most of his career in new construction. He enjoyed teaching his son, Preston, at an early age the value of learning new things and noticing the finite details of the trade. Oscola pays attention to
the small details that will enhance the magnitude of a project. He enjoys building relationships with home owners and updating throughout their remodeling and construction project. When Oscola isn't working on a project you can find him picking his banjo.
Jason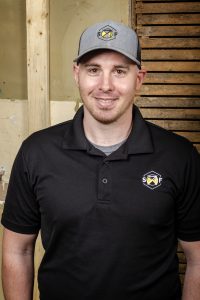 Jason grew up in High Point, NC playing trumpet and spending time with his dad learning how to play most sports. He graduated with his Bachelor of Arts from Gardner-Webb University. After graduating he spent time exploring what his passions and career interests were. He began working for Solid Foundation Construction in 2014. He enjoys seeing a project through and working with customers to make their visions are coming to life. When Jason isn't at work you will find him working on his house or playing guitar.
Dale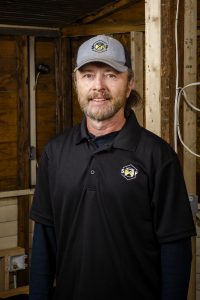 Dale grew up in Pilot Mountain, NC. Dale Jessup has been with Solid Foundation Construction since 2017. Having had extensive time working in a retail environment, he understands the importance of customer service. Dale is experienced in ensuring client satisfaction in all aspects of the project regardless of how big or small. He takes pride in his work and knows each job is done to the best of his abilities. Before coming to SFCC he was a grocery manager specializing in produce and a warehouse and deliveries manager for a local cabinet company. Dale is married to Melissa and father to Olivia and Wyatt.
Rey
Rey grew up in Oaxaca, Mexico. Rey Lopez began working for Solid Foundation Construction in January 2020. His friendly smile and hardworking traits are what make Rey an excellent member of the SFC team. Customers appreciate Rey's willingness to go the extra mile in making a project the best it can be. When Rey isn't working he likes to fish and spend time with his wife. He enjoys traveling to different places and cooking out while listening to music.
Marcelo
Marcelo grew up in Oaxaca, Mexico. Marcelo Lopez has experience carpentry experience, as well as framing. He's focused and often stays quiet while paying attention to details of the job. Marcelo enjoys traveling and spending time with his family when he isn't working.
Schedule a Right Fit Project Conversation Phone Call
There are a lot of contractors out there and depending on your project needs, we may or may not be the "right fit." Instead of being a square peg in a round hole and leaving you with less than desirable results, we'd like to make sure we're the right fit for your project. We've found that if we are the right fit, we are able to achieve amazing results for our customers and bring your vision to life. So, let's have a quick Right Fit Project Conversation to see if we can help!
This error message is only visible to WordPress admins